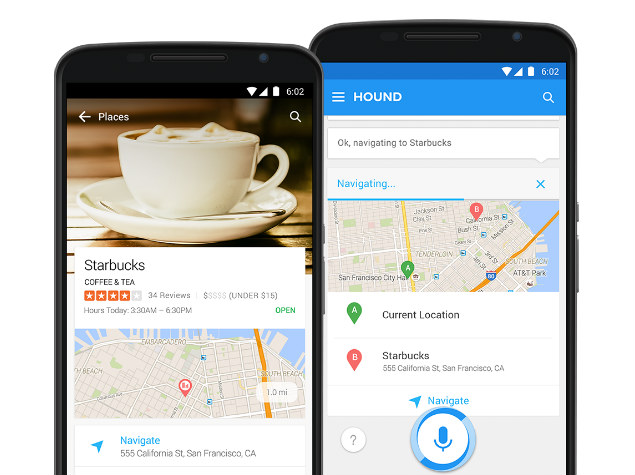 Music recognition app SoundHound is going beyond just identifying songs. The company is using its voice recognition technology to build a new voice-based virtual assistant, much like Microsoft's Cortana or Apple's Siri. The app is called Hound, and is available as part of a closed beta for Android for which you can request access, while an iOS version is also in the works.
Also available on android: IIFL Markets: An Indian Financial Market App Ahead of International Apps
When we have Siri and Cortana, do we need Hound? The answer may lie in another initiative announced by the company. Houndify is a platform for developers that lets them add a "voice-enabled, conversational interface" to their apps. With these two announcements, SoundHound has laid out its path for the future. As a song identification service alone SoundHound faces stiff competition from Shazam, which is integrated with Apple's personal assistant Siri. Broadening its focus opens up new opportunities for the company.
According to SoundHound, the app Hound specialises in natural language processing, which means that you can ask it questions like you'd ask a person. It doesn't require you to utter specific keywords to get an answer. You could ask questions such as, "Where is Golden Gate Bridge?" and then issue a command such as, "Find me hotels near there under $150 with a swimming pool and free Wi-Fi." The app would be able to answer your queries, SoundHound claims. As is evident in this example, one of the app's headline features is its ability to answer follow-up questions.
Hound can also perform other actions such as make calls, send texts, find directions, etc. SoundHound says the conversational nature of the app differentiates it from others in the category – though Microsoft would beg to differ as it also touts Cortana has a natural language interface. SoundHound claims Hound tries to understand the query rather than providing results for search keywords. It is in beta as of now and there may be several instances when it just shows you Web search results instead of answers. That is expected to improve once Hound ropes in partners for the app. Like Siri displays some answers from Shazam, Weather Channel, and Wolfram Alpha, Hound could soon pull information from similar services.
The nature of this app makes it far more useful on Android than iOS because Android isn't as restricted as Apple's platform. On Android you can use a custom launcher to launch Hound as a shortcut mapped to one of the navigation or hardware keys, such as the home button. This puts the information you need from the app on your fingertips. This isn't possible on iOS and is just one of the restrictions that will make Hound's iOS version limited when compared with Android.
Developers who have wanted to integrate some kind of voice processing in their apps might be interested in Houndify. This platform lets them add Hound's features to their apps. Houndify is cross-platform, so developers can use it on apps built for iOS, Android, Windows, Unix, Raspberry Pi, and others, according to the official website.