With Father's Day almost around the corner and restaurant reservations fast filling up, are you wondering how to make the day special for your favourite superhero? Well, what better time to put your foot down and show who is the boss in the kitchen! Both of you might not be of the expressive kind, but this Father's Day on June 18, let your dad know how much he means to you, in just the most delicious and heartwarming manne. Cook him a sumptuous brunch he wouldn't say no to! From Egg Benedict to Spicy Lamb Tikkis to Risotto dumplings — we have you covered.
EGGS BENEDICT
Treat your father to a delicious yet simple Egg Benedict dish from Avinash Jha, Executive Chef at Jaypee Vasant International.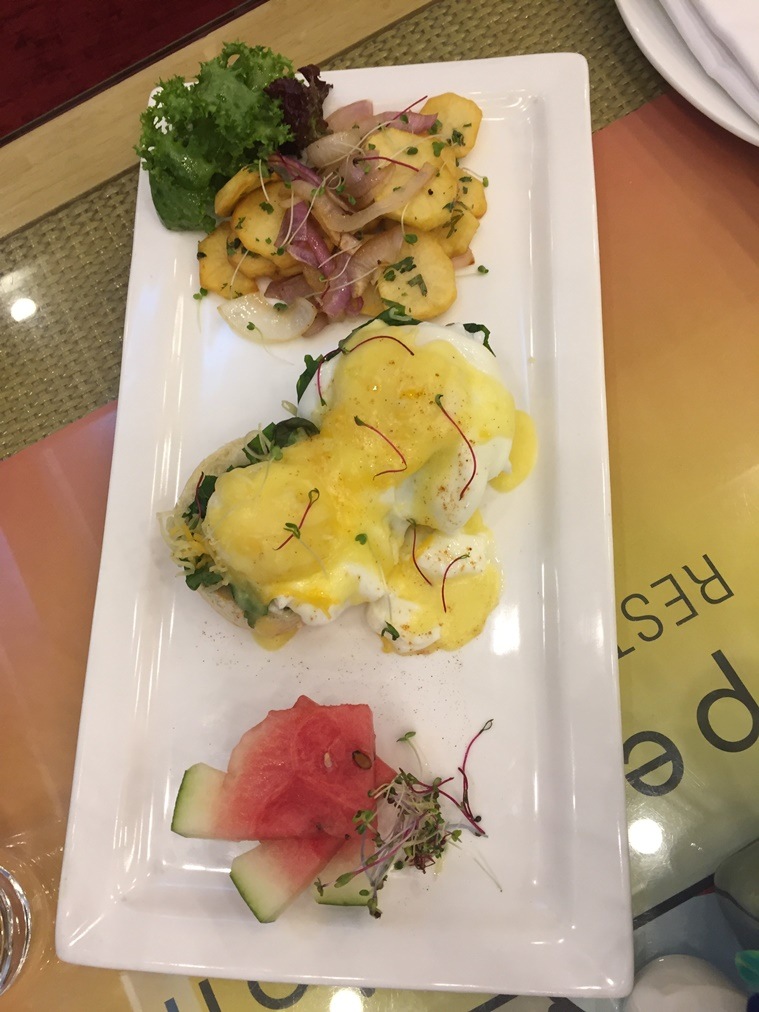 Ingredients
2 — eggs
2 slices — brown bread
2 tbsp— blanched spinach
3 slices — smoked salmon / chicken or ham
2 tbsp— Gruyere or processed cheese
2 tbsp — Hollandaise sauce
A pinch — paprika or red chilli powder
To garnish
1 slice — honeydew melon
1 slice — pineapple
1 slice — water melon
1 slice — kiwi fruit
3 pieces — blanched asparagus
Method
* Heat water in a shallow pan. As soon as the water comes to a boil, reduce to a simmer.
* Gently break two eggs into the water and let them poach for three to four minutes.
* In the mean time, toast the two bread slices and cut them into half, thus into four triangles.
* Place two triangles of toast on the plate's centre, place the blanched spinach on top, followed by smoked salmon slices and poached eggs.
* Sprinkle grated cheese on top. Finish by pouring the hollandaise sauce on the eggs (optional) and sprinkling a pinch of paprika on the sauce.
* Arrange the asparagus spears on the plate, garnish with fruits and serve.
MAPLE MASALA (SPICES) BRAISED CHICKEN LEGS
See your father brimming with pride as you serve him up a delicious dish of Maple Masala Braised Chicken Legs, recipe by chef Vicky Ratnani.
Ingredients
4 pieces — Chicken legs
1/2 cup — Onions chopped
6 — Curry leaves
Mustard seeds — 1 tsp
2 — Slit green chillies
For Maple masala
1/2 — Grated coconut
2 tbsp — Maple syrup
6 — Kashmiri red chillies
1 tbsp — Coriander seeds
1 tsp — Cumin seeds
2 — Cinnamon sticks
4 — Cardamom pods
10 — Black peppercorms
1 tsp — Fenugreek seeds
1 knob — Ginger piece
Salt — To taste
1 tbsp — Ghee or clarified butter
Instructions
For Maple Masala Paste
* Roast all the spices for the masala in a non-stick pan until well done and dark brown in colour.
* Add the maple syrup and grind into a smooth paste.
For chicken
* Heat the ghee in a pot, add the mustard seeds, curry leaves, green chillies.
* As they splutter, add the onions and cook till dark brown in colour.
* Add the chicken legs and sear well on all sides.
* Add the maple masala and mix well.
* Cook on a slow simmer for 30 minutes until the spices are well cooked.
* Season with salt.
* Check the chicken legs and make sure they are soft and almost falling off the bone
* Add a dash of cream, lemon juice, chopped coriander leaves to garnish
* Serve with steamed rice or any Indian flatbread.