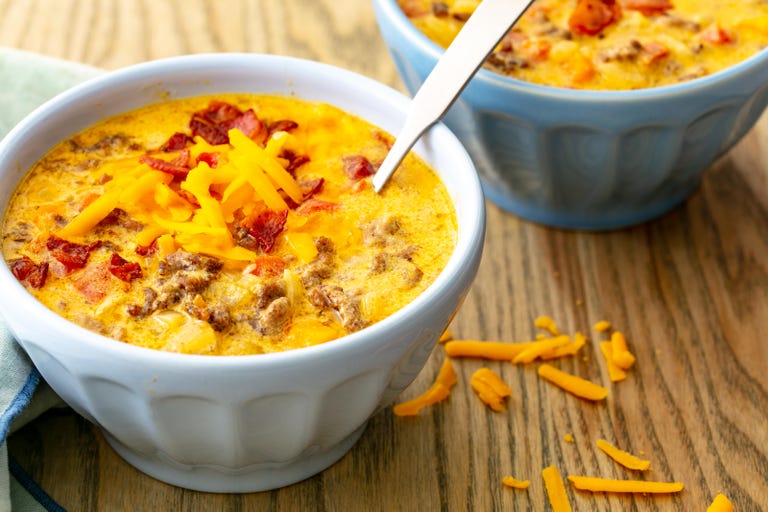 Cheeseburger Soup is one of those recipes you see on Pinterest and think "Why?!" But then you have a taste of it and totally understand. It's kinda like a vegetable beef soup, only with a little more burger flavor. Grab a spoon.
3 tbsp.
all-purpose flour
1 
(16-oz.) diced tomatoes, drained
3 c.
low-sodium chicken broth
1 1/2 c.
shredded cheddar, plus more for garnish
In a heavy soup pot or Dutch oven over medium heat, cook the bacon until crispy. Transfer to a paper-towel lined plate. Add the ground beef to the pot where you just cooked the bacon. Break it up with a wood spoon and cook until browned, about 5 minutes. If there wasn't much fat from the rendered bacon, add more olive oil as needed. Remove the beef from the pan.
Pour out all but 2 tablespoons of the fat from the pot. Add the garlic, onion, celery, and carrots and cook until the onions are translucent, about 5 minutes. Scrape up any brown bits that have accumulated on the bottom of the pot. Whisk in the flour for just a minute.
Whisk in the mustard, broth, and diced tomatoes. Bring to a simmer, then cover and let simmer until thickened, about 10 minutes. Lower the heat and stir in the beef, cheese, and half and half. Cook until the cheese has melted and the beef is cooked through, about 5 minutes. (If soup is too thick, add more half and half).
Serve with the bacon and extra cheese on top.